SushiSwap token (SUSHI) has seen a tidy increasing value as the overall market enjoys gains.
Following a rally on decentralised exchange tokens, the market has seen several tokens enjoying flourishing prices. SUSHI, however, has seen a particularly strong incline in value with a daily trading increase of nearly 24% to tag a new all-time high. For the first time, SUSHI rose to $16.31 after spiking by nearly 8%.
Other altcoins gaining
While SushiSwap sits as the token with the highest gain over the past day's trading, THORChain (RUNE) increased by nearly 13%, Uniswap's native token (UNI) rose by over 6%, Curve (CRV) increased by 4.5% and PancakeSwap's token (CAKE) drew in an increase of nearly 3%.
According to decentralised analyst Kris Kay, SUSHI's massive increase over the other DEX tokens is likely as a result of how many more blockchains it has branched out to. Because of this, the token has been able to generate more users, who have brought in more fees, raising the value and increase demand for the token.
Some DeFi Blue chips, ranked by how many different block chains they're deployed on. 💡⚡️$SUSHI 🍣 leading the pack.

(A thread) 👇🏼 pic.twitter.com/tdUIn3WGoN

— Kris Kay | 🍩 DeFi Donut (@thekriskay) September 14, 2021
SushiSwap's announcement that it had been deployed successfully on Abritrum, a competitor network to Ethereum, also helped the rally of the token. With $30 million total value locked (TVL) of SUSHI tokens into smart contracts on Arbitrum, according to SushiSwap, there's room for continued growth and sustained health of the decentralised token.
Earlier this month, SushiSwap also revealed that it has plans to launch its NFT marketplace – a move that will further drive sales volumes as the NFT market has seen a massive explosion over the past six months.
SUSHI's price moving forward
According to Kay, SUSHI has the potential to grow even more in the upcoming months and as new products are launched and as it is deployed on different blockchains. Over the past day, the majority of fees earned from SUSHI come from Ethereum, but a significant portion is made from other blockchain platforms.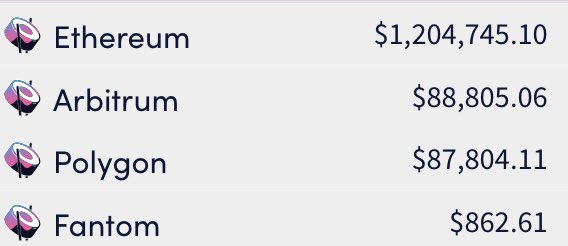 Source: Kris Kay, Twitter
Kay noted that SushiSwap's growing products will see a wave of interest pour into the decentralised token and that this suite of products will all generate revenue "for the community treasury, and of course, [SUSHI] holders."
5/
Sushi Swap is also growing its eco-system w/ new DeFi products:

👉🏼 Kashi / Bentobox = lending / borrowing

👉🏼 Onsen = Liquidity for other DeFi protocols + farming

👉🏼 New Token launchpad

👉🏼 Shoyu (coming soon) = NFT marketplace

— Kris Kay | 🍩 DeFi Donut (@thekriskay) September 14, 2021